NO SCHOOL - Spring Break - Monday, March 12-Friday, March 16, 2018
NO SCHOOL is scheduled for Monday, March 12-Friday, March 16.  Administrative Center offices will be open normal business hours Monday, March 12-Wednesday, March 14.  Classes resume on Monday, March 19, 2018.  
Have a relaxing and fun Spring Break!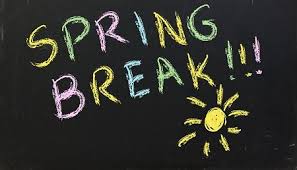 Kick-Off to Kindergarten for 2018-2019

Kick-Off to Kindergarten is for children turning five years of age on or before September 15, 2018, and who will attend kindergarten during the 2018-2019 school year. Please contact the school your child will attend to provide information about your potential kindergarten student and to receive information about the Kick-Off to Kindergarten parent meeting scheduled on Monday, March 19 at 6:00 p.m. in the FEMA Safe Room located on the John Adams Middle School/Mason City High School campus. Please bring a copy of your child's birth certificate to the meeting.
Incoming kindergarten students are invited to attend a kindergarten classroom experience on Friday, April 13 from 9:00-11:00 a.m. at their school.
If you have any questions, please contact Amy 641-421-4406.
ISL and PPEL Vote - April 3, 2018
The vote to renew the Mason City Community School District ISL and PPEL will be held on April 3, 2018.  The ISL (Instructional Support Levy) supports district wide educational programming, instructional and students supports and building level instructional supports.  The PPEL (Physical Plant and Equipment Levy) funds are used on building and equipment purchases and repairs. The District is asking the voters of Mason City to renew both of these levies at the April 3, 2018 vote.  Check out the Frequently Asked Questions brochure to learn more about both of these important levies or click on one of the video links provided to view a video about how Mason City Community School District has used these levy funds the community has been providing through the previous 5-year vote.  If you have any questions, contact the Office of the Superintendent at 641-421-4401 or email your inquiry to This email address is being protected from spambots. You need JavaScript enabled to view it..
Mason City Community School District ISL Vote - April 3 
K-6 Conference Sign-Up Available
Parent-Teacher Conferences for K-6 students will be held:
Monday, March 26          4:00 p.m. -7:30 p.m.
Thursday, March 29        1:00 p.m. -7:30 p.m. 
Online sign-up similar to the process used for beginning of year conferences is again available.  Click Here to access the online calendars to schedule a 15-minute conference with your student's teacher.
Select the name of your student's teacher to view the available conference time slots.  As time slots are selected by parents/guardians, they will be removed so only the time slots still available will be listed.  Please sign-up for only one conference time slot per student.  Click here for a direction sheet to assist parents in this sign-up process.     
 Parents/Guardians without internet access, or those needing assistance, please call your student's school building directly to sign up for time.
| | | |
| --- | --- | --- |
| Harding Elementary |        | 641-421-4406 |
| Hoover Elementary |        | 641-421-4408 |
| Jefferson Elementary |        | 641-421-4411 |
| Roosevelt Elementary |        | 641-421-4415 |
| Lincoln Intermediate |        | 641-421-4423 |
School Notification System Sign Up
The Mason City Community School District offers alerts through a school notification system to help keep in communication regarding school closures/dismissals/late starts and other important information.  Parents can sign up through PowerSchool to receive automatic phone, email or text message notifications by signing into their student's PowerSchool account and setting their Student Preferences.  There are several categories available for announcement types and parents may select their preferences for each category.  If you should have any questions or problems with setting your preferences, please contact your student's building office.
Anyone who does not have students in our school system who may have an interest in receiving alerts regarding school closures/dismissals/late starts through this school notification system, may contact the Office of Communications and Community Relations to be added to a custom list to receive notifications.  Please contact Sue Deike at 641-450-5001 or email This email address is being protected from spambots. You need JavaScript enabled to view it. with the type of notification you prefer receiving (phone call, text, email) and your number/email. The system is capable of sending notifications to multiple numbers/emails if you prefer receiving multiple notifications.
School closure information is also available on the district website's homepage at www.masoncityschools.org and on the Mason City Community School District social media pages (Facebook and Twitter). Local media outlets announce the district school closures and list them on their respective websites as well.